A pretty comprehensive list of all the places I like...
All of the following sites have some adult content. If a MUCK or talker, it's for adults only. For nonadult sites, please click on the Nonadult Links hyperlink.
Linking To Hedonism's Ophidian Haunt
Please feel free to do so. If you Email me when you do with a link to your page, and it has fun content like those below, I may provide a Link to your own page. If you want to use a Link image, please grab the following. (Thanks to Corwyn Blacktail for creating this)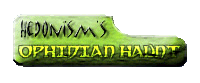 Mailing Lists
Ovipositionphile List : A list I run about the experience of laying eggs or giving birth

Unbirthing List : Somewhat the opposite of the Ovipositionphile list, this concerns the process of going back into the womb. Can you can imagine the fun experienced by the 'mother' and her new tenant? Yes? Then join up :) There's certainly a following for this kink.

Serpent's Embrace List : Serpent's Embrace is for those with a passion for pleasure with large snakes.

TSA Mailing List : Dedicated to swapping stories about transformations. The list itself has a very low number of adult stories, but it's Web site does have a few. Both are a source of some stunning quality free writings.

Anthrosaur Mailing List : Originally started to spread Kaa Starhunter's artwork, it now is a lovely general herpetophile (reptilian sex) website, for distribution of stories, pictures, discussion and other media.

Lava Dome 5 : Another fine place to find all sorts of stuff about herpetophilia, this list also deals with macro-fun and general silliness.
MUCKS, MUSHes, Talkers I Frequent
TELNET tassmoj.ctrl-c.liu.se PORT 8887
Herp Haven II : A new talker on the scene, also concentrating on reptilian and similar characters. Adults only. Find the link on Blayze's homepage, but there's lots of other stuff that might interest you here too.

Tapestries : Adults-only version of Furry MUCK. Well established, with lots of people present.
Reptilian / Mostly Reptilian Stuff
VCL Forum - Glee Silverwind's Stories : Nice naughty stories from Glee. Ask him about doing a commission.

Nekked Vampi, by Shokoshu : A big archive o' stuff

Dragon Erotica, by John Martello : An excellent artist and creator of herpy comic strips

Rangarig : Creates fun yiffy movies!

Berbalang : Humerous and sexy pictures. Don't ask me how :)

Chris Sawyer
Alternative Site 1 : Yeah, he good!

Naga's Den Sweet portraits of this unusual creature, Naga (both her name and species). Adult content is only frontal nudity.

Rauhnee's Page : Look put for the Dinosaucers stuff :)

Karabiner's Den : An excellent artist

FoxxFire's Webpage : This artist is good!
Furry
Furnation : A very large Web server, host to the Web sites of over 400 artists.

Velar Anthro Library : An absolutely massive archive of furry pictures.

Dolphin Paradise : Real life pics of dolphins and other sea mammals. Some very anatomical.

Cerine's Furry Kinklopaedia : Cerine's homepage and guide to all those obscure kinky things

Dark Natasha : Amazingly drawn Furries

Stellos / Furronika : Assorted strange furry delights, both Furry and Zoophile

The California Kit Fox : Some beautiful art. Including the odd birth and scaly scene.

Macop - Underwater Forest : Lots of liquids flying :)

LadyHawk and DarkWolfe's Pages

Ollie Canal : Otter artist extraordinaire

got fox? : Beautifully indexed but apparently no longer updated naughty story archive.
Zoophilia
Whiteshadow's Nasty Stories A wide range of stories, including two zophilia categories.
Xenophile / Tentacles
Galaxy Of Terror Fan-Art Site
Drunzae : Mutcho demon scenes.
The Grey Archive : Lots of great yiffy stories
The Xenophile : A welcome return of this compendium of xenophile pictures and stories
Shokushu High School : A strange sort of tentacle hentai adventure game / exploration. Has great pictures, and is funny at times. It's also host to many great websites.
Voraphile and Similar
The Vore Ring
Haffnium 72 : Most scenes are rather more fatal and painful than what I usually like, but imaginitive and groovy.
Vor.com : Humerous rather than horrific vore scenes. Check out both Strega's and Gimlet's pictures - they are utterly dreamy :)
The Serpent's Lair : Many serpent stories, particularly concerning fatal constriction
Transformation
Transfur : A great place where furriness and transformation meet. An inexhaustible resource of fun :)

Furnpike : Lots of transformation and furry links to peruse

Cross Genetics : Photomorph science lab

The Transformation Process : All sorts of transformations happening to women.

Pop Fusion : When I see Pop's art, it's so beautiful I wanna see it happen in real life

Pennsylvania Werecreatures : Errrr. I don't live all that close to Pennsylvania. In fact, I'm several thousand miles away. But they put a link to my site in on theirs so I'm reciprocating. And I like the founder :) Anyone living closer with an interest in changing form, check it out.

Aayrick's Website : Nice scaly transformation scenes this way.

Dragon's Transformation Stories

The Art of Ranzab : Ranzab's section on Lorekeep. Amazing manga quality, plus some ovipositionphile scenes :)

Alphawolf - The Menagerie : Many interesting transformations. Do check out the Gallery of Stuff, under The X Pages.

Anime Transformation Archive : The definitive collection of anime-style transformation pictures.

Mr. Mergers : A splendid collection of stories that involve the merging of two or more creatures into one entity.

Samapuma's World Animorph : Samapuma's transformation site. With excellent transformation sequences, it's one of my favourite sites.
Erotic Cartoons And Hentai
Krweb.com
Top 100 Hentai Sites : The beginning of a loooong and eventful journey into the fun of online Hentai.
FREE Hardcore Hentai Anime Collection : Collection of free hentai pics - the content cycles regularly, so several visits will bring different contents.
Kthanid's Lair : All your favourite stars!
H-Sekai : Even more famous faces!
Cartoon Strips
Supermegatopia : A naughtier than normal comic strip.

Mamabliss : Bizarre goings on, bizarre artistic style, I like it :) It's a paysite for archived material, but current comic episodes are free.