MYSTIC FOX
Story and Characters by John Martello

---
Digital comic. Contains nudity, strong sexual content.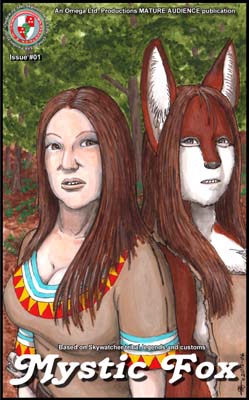 MYSTIC FOX #1
Sakoora, a young member of the Skywatcher Tribe, assumes her role as guardian of the portal and crosses over into an alternate universe filled with anthropomorphic beings. She immediately encounters; Tori, a large bull hybrid who has a fascination with female breasts.
23 pages
$2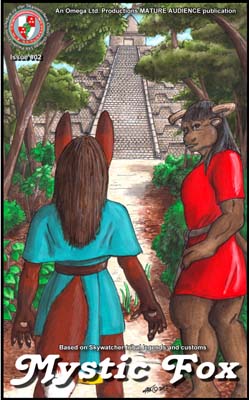 MYSTIC FOX #2
Sakoora meets with the village elders and is presented with new clothes. Tori is instructed to aid Sakoora and escort her to the ancient pyramid on the out skirts of the village. Tori's strength comes in handy as Sakoora has him open the sealed doors of the pyramid.
23 pages
$2


MYSTIC FOX #3
A Sakoora and Tori, come across the library of ancient knowledge inside the pyramid. A book was left open for her to find by the last Mystic. Tori can not help but stare at Sakoora's cleavage and Sakoora allows Tori to fondle her breasts until Tori becomes aroused. It was then off to handle the problem the book was addressing.
23 pages
$2


MYSTIC FOX #4
After sending Tori back to the village to bring back some supplies, Sakoora comes across the pyramid's meditation chamber where Sakoora communicates with Tiamat, a young male dragon that has been awaiting the return of the Mystic. Sakoora discovers the sensuous nature of the dragons as being true.
23 pages
$2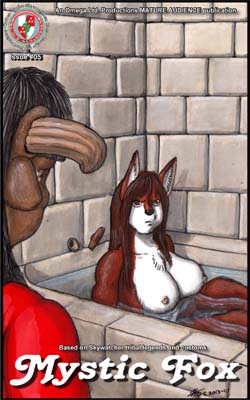 MYSTIC FOX #5
After Sakoora's chat with Tiamat, Tori is afraid to return to the village by himself, fearing the dragon, ruining Sakoora's bath. Upon returning to the village, Sakoora is obliged to attend a welcome party the villagers are throwing for the Mystic. Tori disappears with his mate to their room and the sister of the village elder openly expresses her attraction to Sakoora. Sakoora returns to the pyramid to take her bath.
23 pages
$2